SOLD!!!!
Congratulations!!! To Rock 'a' Bye farms, Lorie Palmer, on her purchase of TWF Thee Jesher...she has exciting plans for Jesher. He will be in training for hunter pleasure to start his show career. Lorie will be spending lots of quality time, love and care with Jesher. We are so pleased that Lorie will be providing Jesher a wonderful home. Lorie sees a diamond in the rough with Jesher and she will give him all the things he deserves and the gratitude and love he gives her will be amazing!! Best of luck with TWF Thee Jesher!!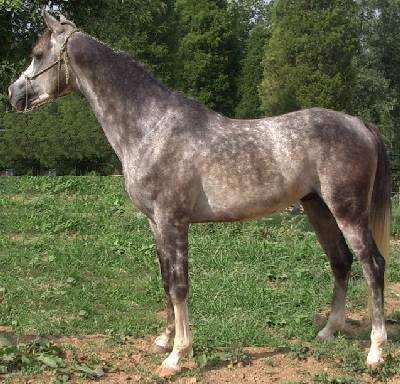 GREY GELDING
TWF THEE JESHER
TA Prince Sharif x Thee Jewel x Thee Desperado
Al Khamsa Strain: Shuweyman Sabbah
JESHER is a handsome ,exotic dark dapple grey GELDING. He has the attributes of a promising show horse.
He could excel in halter, performance, 4-H and trail. Because of his intelligence, willingness to learn and please, his loving personality and confidence to the saddle and schooling, he would compliment any family oriented atmosphere. This boy will capture your heart. His laid back attitude and talkative nature impress all who see him - but if you need him to "show off" he can.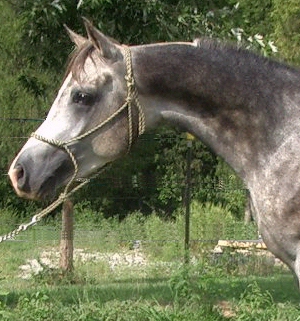 His beautiful looks and intelligence were inherited from his Mom ( THEE JEWEL ). He has wonderful movement. He is such an athlectic prospect. He has dark dreamy eyes, tippy ears, a large dish head, small muzzle, strong tall legs, nice top line, shapely hooky neck, smooth body,and a beautiful tail set. He is destined to make an amazing impact in your life. He just needs a chance to show his full potential. A GOOD HOME IS A MUST.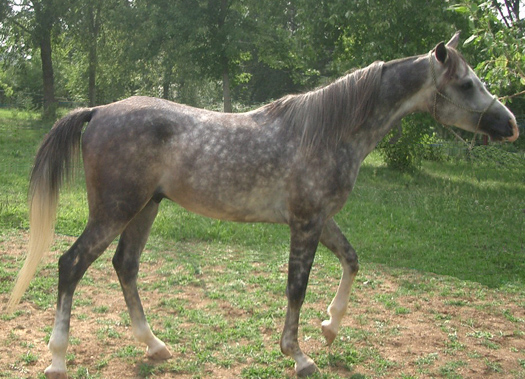 If you ever dreamed of owning a fantastic STRAIGHT EGYPTIAN HORSE, don't miss out on THEE JESHER. He could fulfill your wishes, dreams, plans. Don't just wish you could own him...don't just dream you could own him...just plan to own him; because a dream without a plan is just a wish. His name is THEE JESHER and he APPROVES THIS MESSAGE.
TWF THEE JESHER AHR*623707 Grey 2005
PEDIGREE
THEE DESPERADO

THE MINSTRIL

AK AMIRI ASMAAR



THE MINSTRIL

THE MINSTRIL

Tech World Farm | Carol Andrews
Knoxville, TN
Ph: 865-556-7775
E-mail
All contents ©Copyright 2009